Are you ready to conquer a unique product, a product that you haven't seen before? Now come out in "Summer 2018". If you still hesitate to try, these are the reasons why you cannot miss this new pair of toothbrushes.
Oral hygiene is always a necessity in everyday life of every family. To prevent dental problems, choosing the right toothbrush is a very important factor. It helps eliminate plaques on your teeth, eliminate tooth decay factors and protect the gums efficiently. Otherwise, if you choose improper toothbrush, it is very easy to damage the enamel, tooth and gum surface, leading to tooth erosion, gum diseases and tooth sensitivity.
With the mission of caring and protecting for Vietnamese families, FIT Cosmetics has introduced two new types of toothbrushes: Dr.KOOL Mashi Pro and Dr.KOOL Well Pro, both are made by Korean technology creating outstanding features, able to meet the needs of comprehensive dental health care.
Unique packaging design suitable for youngsters who love to be distinction
With double helix bristle, enhanced elasticity and durability, Dr.KOOL Mashi Pro and Dr.KOOL Well Pro clean as twice as normal toothbrushes. The bristles are extremely soft enabling them to brush every tooth not only without hurting the gums, but also protecting and keeping them healthy. Dr.KOOL Mashi Pro and Dr.KOOL Well Pro's super slim and small shape heads make them easier to slip into every corner of mouth, including the most inaccessible areas deep inside. They facilitate cleaning and dislodging all plaques and food particles, easily kill bacteria that cause tooth decay and protect your mouth as much as possible. On the other hand, handle is design with firm, anti-stain and anti-mold features, keep the brush always cleaned.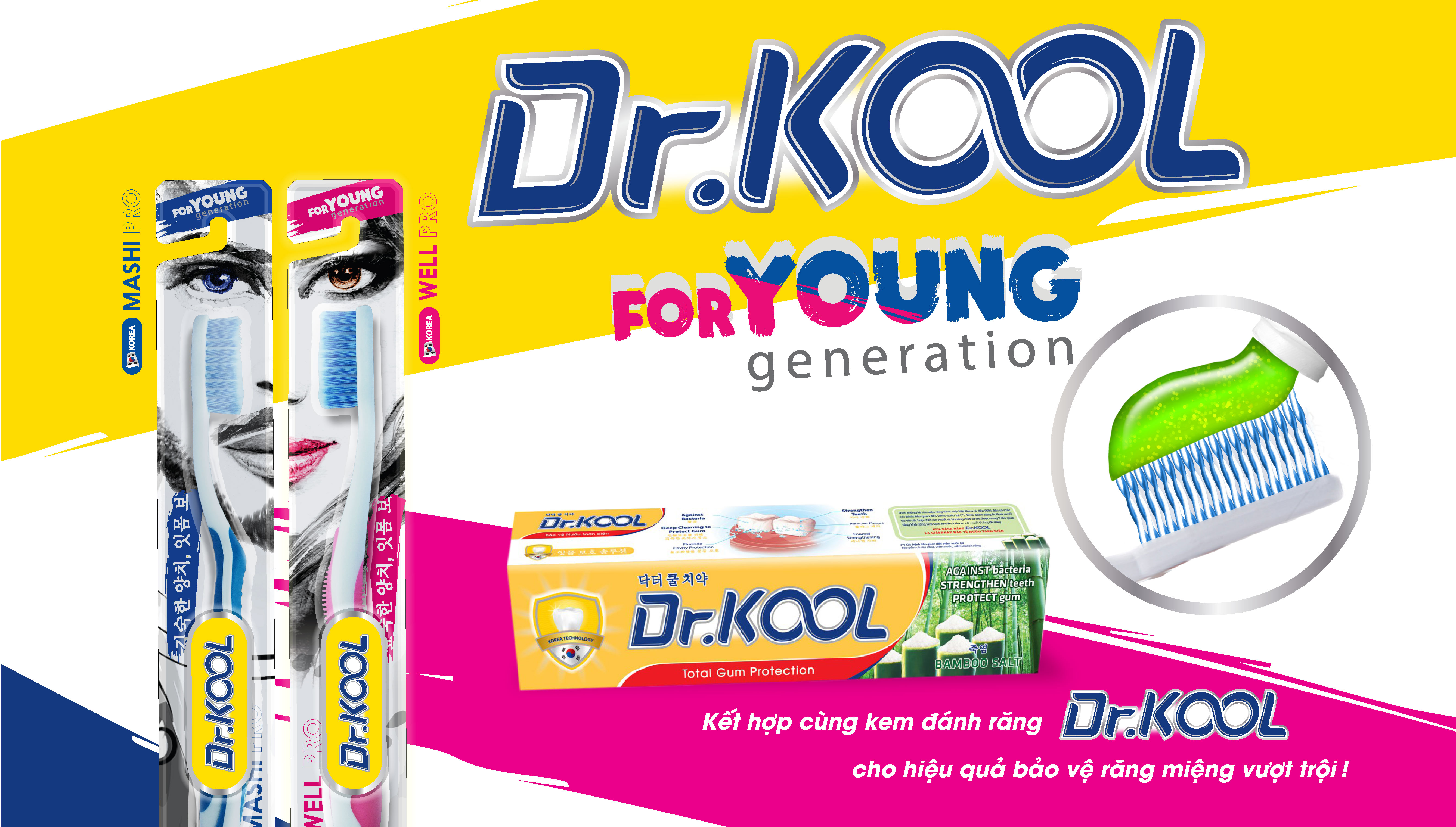 Using Dr.KOOL Mashi Pro, Well Pro in combination with toothpaste and Dr.KOOL toothpaste provide superior oral protection.
Beside Dr. KOOL Mashi Pro and Dr. KOOL Well Pro toothbrushes, the Dr Kool line of FIT Cosmetics has been recognized for its variety of toothbrushes such as: Kool Tornado, Dr. Kool Dark Knight, Dr. Kool Panda Pro Gold, Dr. Kool Panda Pro Silver, Dr. Kool Panda Clean etc., With the mission to connect and improve Vietnamese consumers' health, FIT Cosmetics will strive to introduce more diverse and valuable products, aim to become Top 05 Reputable and Trusted Leading Enterprises moving in accordance with the direction that FIT Group – the parent company has oriented.