As monthly precedent, this time FIT Group continues to conduct its meaningful charity journey, to share loving-kindness from heart with disadvantaged patients in major hospitals in the Hanoi.
Prioritizing on social works, charitable activities have long become a regular activity, a beauty in the corporate culture of FIT Group. This has been being performed with consent by the FIT Board of Directors and all staff, in the spirit of towards the community, to fulfill the corporate social responsibility. In which, distributing charitable meals to share difficulties with poor patients is one of the programs with profound humanity, highly appreciated by FIT and has been implemented regularly from 2017 to present.
On 26/02/2019, FIT continued to coordinate with Hoa Chum Ngay volunteer group to give 850 charitable meals to impoverished patients at K Hospital and National Institute of Burns, Hanoi. Not only directly experienced and shared with the circumstances of the poor patients, did FIT volunteers have opportunity to contact, understand, sympathize and share their compassionate hearts with those difficult circumstances in society, empower faith and fortitude to support them overcome diseases.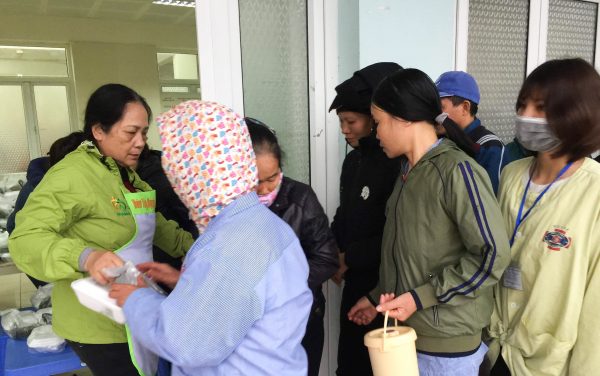 Lately, besides the charity meal distribution program, FIT and its member companies have also implemented series of other social activities such as sponsoring the Xuan Tri An (Spring of Tribute) – 2019 to commemorate 1700 Vi Xuyen martyrs, Ha Giang; accompanying with VTC News to bring warm Tet to two poor communes in Ninh Thuan province; sponsoring Meeting Event to give gifts to poor households and households with special difficulties in Tan Trieu commune, Hanoi. In the future, the Board of Directors and all employees of FIT Group are committed to keep on promoting corporate social responsibility, carry out more meaningful activities and events at a larger scale, contributing to spreading human values ​​and kindness to the community, joining hands to build better and better communities.