Starting from a business operating in the field of investment, investment consulting and financial services, FIT Group Joint Stock Company (FIT Group) has become an investment group owning companies with high capacity for advancement in developed commodities such as: Pharmaceutical; The consumer goods industry includes drinking water and cosmetic chemistry; Agriculture and Food; Resort Real Estate.
In the pharmaceutical sector, Vietnam is considered the second largest market in Southeast Asia, one of the 17 countries ranked in the group with the highest growth rate, FIT Group owns Cuu Long Pharmaceutical JSC (DCL), an enterprise with more than 40 years of operation and reputable brand name to consumers, pharmacies and major hospitals in the provinces of Vietnam.
DCL currently owns 4 factories: including 2 pharmaceutical factories meeting GMP – WHO standards and a 40 ha pharmaceutical farm in Binh Phuoc; 1 medical instrument factory; 1 factory manufacturing Vicancap empty hard capsules. Vicancap is the pioneer in Vietnam manufacturing and supplying all kinds of capsules (empty hard capsules). The factories are currently running at full capacity, with advanced technology imported from Canada and South Korea.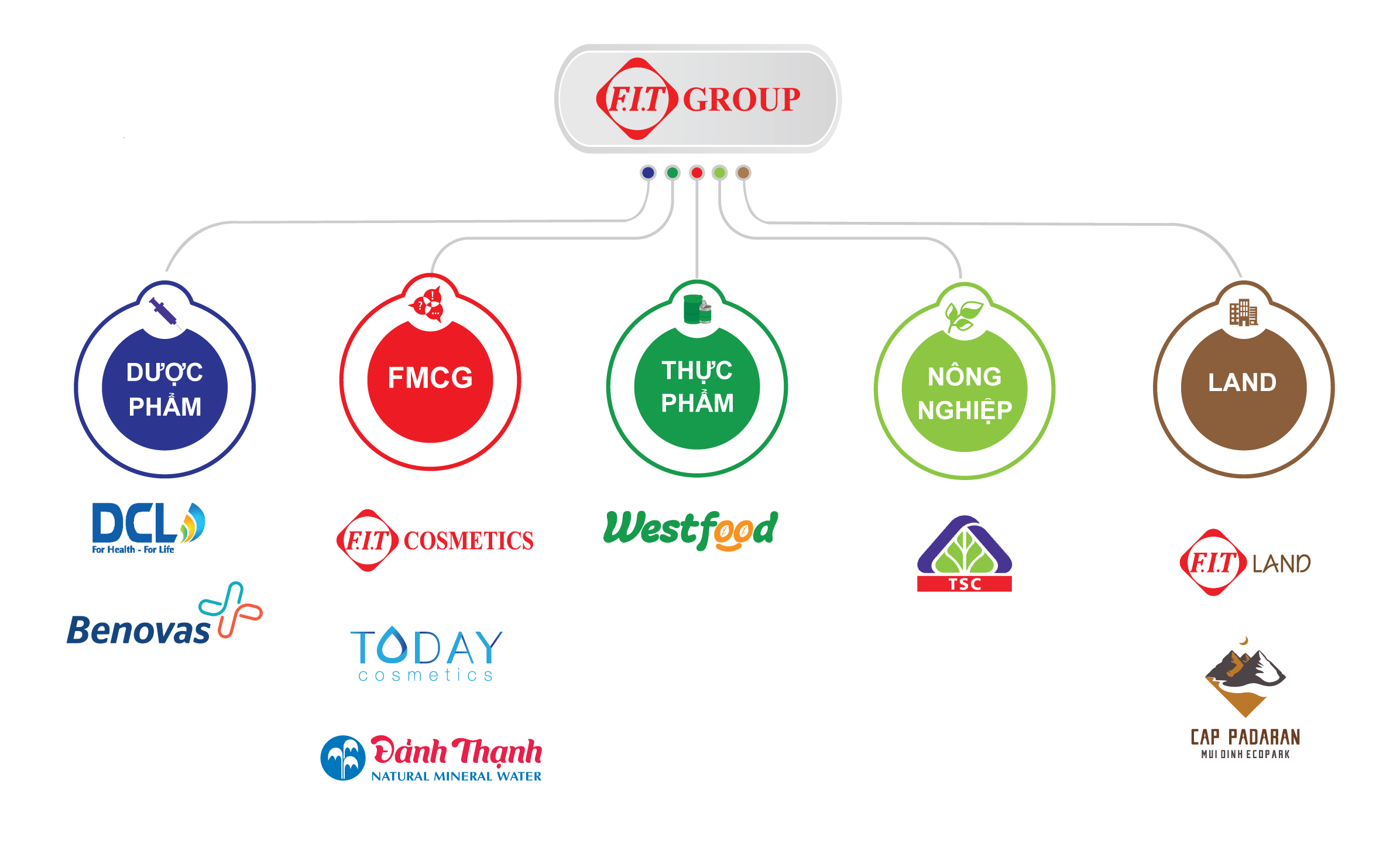 FIT Group is an efficient investment group that owns companies with large room for improvement
In 2020, DCL has obtained a visa for 2 anti-cancer drugs, which are in high demand for cancer treatment in Vietnam, promising to bring in millions of dollars in sales by 2020, contributing positively on revenue as well as profit growth compared to 2019. In the third quarter of 2020, DCL's revenue reached over 139 billion dong, pre-tax profit reached nearly 16 billion dong, up nearly 3 times compared to the same period last year.
For the non-alcoholic beverage market, a market with a size of about 2 billion USD / year and an average growth of 6-7% / year as Vietnam, FIT Group also owns Khanh Hoa Mineral Water Joint Stock Company with 2 main brands: Danh Thanh and Vikoda.
At this time, the enterprise possesses the Dinh Thanh mineral water mine which contains extremely hot silica trace, meeting international standards, with stable composition, the same type as Kuldur mineral water (Russia), Pavel Bania (Bulgaria). , Evian (France), Bath (England).
These are types of mineral water that have been used and have very good effects in healing and disease prevention. Owning the advantages of water sources with high natural alkalinity from 8.5 – 9.0, in the third quarter of 2020, despite the heavy impact of the 2nd time Covid epidemic, the enterprise still has a profit before tax reached nearly 4.5 billion.
The world agricultural market with a capacity of nearly 8,000 billion USD / year is very attractive for businesses, including Vietnamese enterprises – a country where agriculture plays a key role. Over the past 30 years, the Western Food Export Processing Joint Stock Company (Westfood), a subsidiary of FIT Group, has also affirmed its position in this potential market.
Up to now, Westfood products have been introduced and appreciated in many countries and continents around the world such as the USA, Canada, France, Netherlands, Ireland, Japan, Korea, Australia … Westfood's customers are mostly corporations, factories producing and processing food with large scale such as: Dole, Aeon, Atlanta, Port Royal …
Facing the difficult situation of the Covid-19 epidemic, Westfood also actively increased purchasing and chose the right time to buy raw materials, mainly fruit, for processing.
In the third quarter of 2020 and the following months, Westfood started to receive new product orders and new Cup closing lines started to go into operation, for that revenue remained stable at a high level, reaching at over 63 billion, accumulated in 9 months attained over 212 billion, up 10% and 6% respectively over the same period last year.
Notably, Westfood is actively expanding its raw material areas to be proactive in input fruit materials in terms of output as well as quality.
In the fast-moving consumer goods segment (FMCG), a side with a growth rate of 5-6% / year in Vietnam, FIT Group currently owns 2 companies, FIT Cosmetics Joint Stock Company – FCO and Today Cosmetics Joint Stock Company with personal care and home hygiene products.
FIT Cosmetic's lines of biological products that are environmentally friendly and protect the health of consumers are meeting the needs of consumers well. For now, nearly 70% of Vietnamese consumers are willing to pay more for quality and safe products. This trend is expected to grow even stronger, as consumers increasingly seek more assurance after the Covid-19 pandemic. Besides, with modern production line, Today Cosmetics is also the outsourcing unit for famous brands. In the first 9 months of the year, Personal Care products grew more than 50%. Among Personal Care products, hand sanitizer products maintain high sales and become popular with consumers.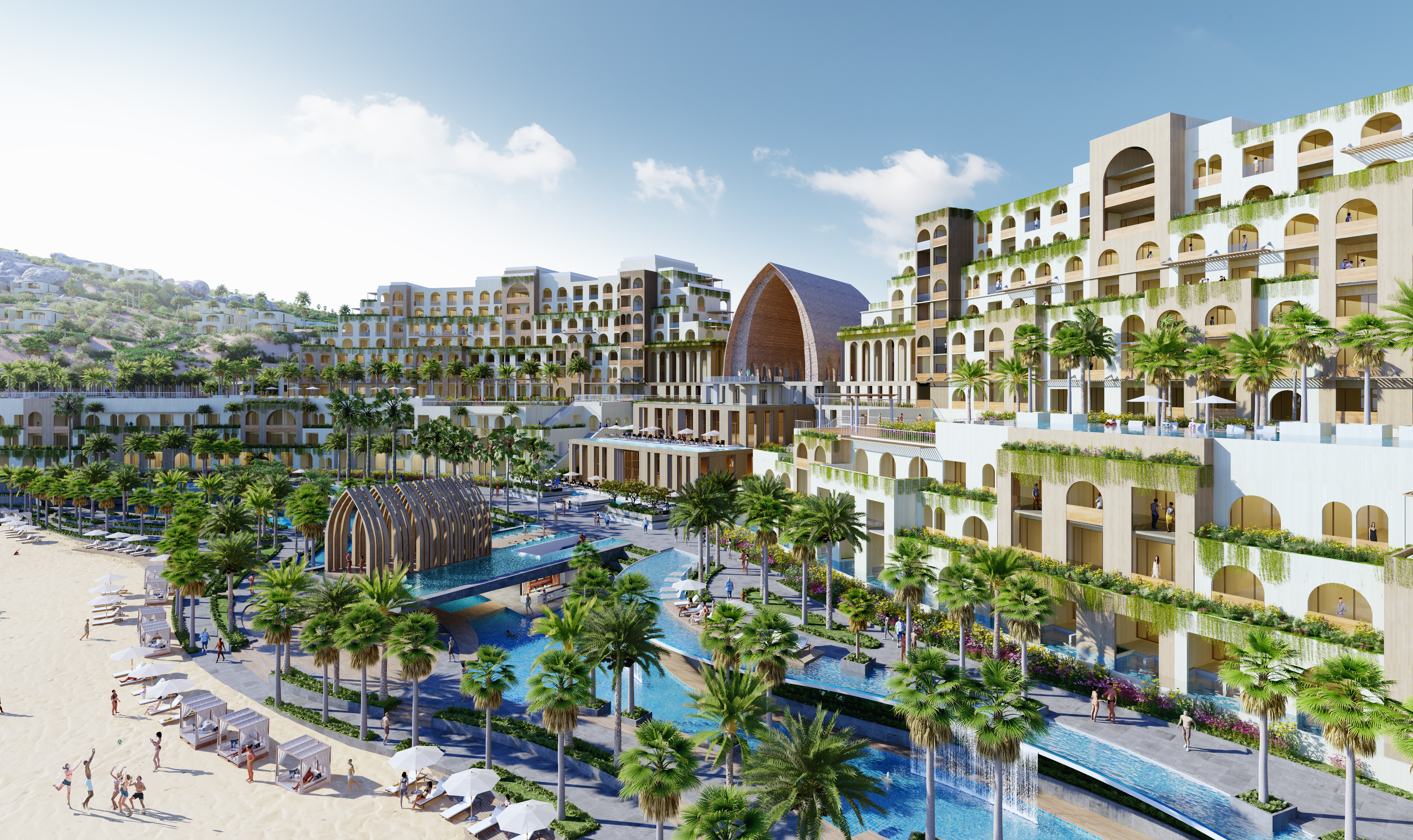 The Ecopark Mui Dinh project was honored at the Cityscape 2019 Awards
 Resort tourism is identified as a key smokeless industry of Vietnam in the future based on endowed natural strengths such as climate, long beaches with rare amazing sandy beaches in the world. In 2019, Vietnam recorded over 85 million tourists. Foreseeing this need, FIT Land, a subsidiary of FIT Group, was born with the motto of bringing the best benefits to customers. Currently, FIT Land is the investor of the Ecopark Ninh Thuan Mui Dinh project, with an area of ​​766 hectares located on a unique terrain nowhere in Vietnam with rocky mountains, sand dunes, sub-deserts located next to beautiful arc shaped beaches like a dream. Ecopark Cape is not only unique due to its natural topography but also its unique architecture, inspired by the Champa culture, and especially the resort area with the perfect service of a unique tourism complex. . Winning the first prize in resort design at CityScape 2019, Mui Dinh Ecopark promises to be an ideal destination, attracting a large number of domestic and foreign tourists.
In 2020, FIT Group sets a net revenue target of VND 1,383.5 billion, an increase of 16% compared to 2019, total profit before tax of VND 171.3 billion, an increase of 43% compared to 2019. Total consolidated net profit after tax is 136.2 billion, the ratio of profit after tax / net sales is expected to reach 9.8%.
According to the Publication welcoming the ASEAN Summit 37 of the World and Vietnam newspaper (No. 46, from November 12th to November 18th, 2020).