On the morning of February 28th, 2020, all FIT Cosmetics as well as Dr.Clean brand's employees joined efforts with Nguyen Tri Phuong Hospital to organize the program "Together with Dr.Clean to protect public health – Give love. Do not give bacteria ".
As Ministry of Health recommendation, hands  is the body part that mostly contact with body succus, then our hands might accidentally  touch the eyes, nose, mouth or whereas holding on to public objects , viruses that cause illness are easily spread to the community. Therefore, promoting the tradition of solidarity for the community from the parent company FIT Group, besides the desire to extend and participate in raising people's awareness about measures of personal hygiene to protect personal health as well as family and society, the staff of FIT Cosmetics company in general and Dr.Clean's brand in particular, together with Nguyen Tri Phuong Hospital – Ho Chi Minh City organized the program "Together with Dr.Clean to protect health" community – Give love, don't give bacteria "at the end of the last February, 2020.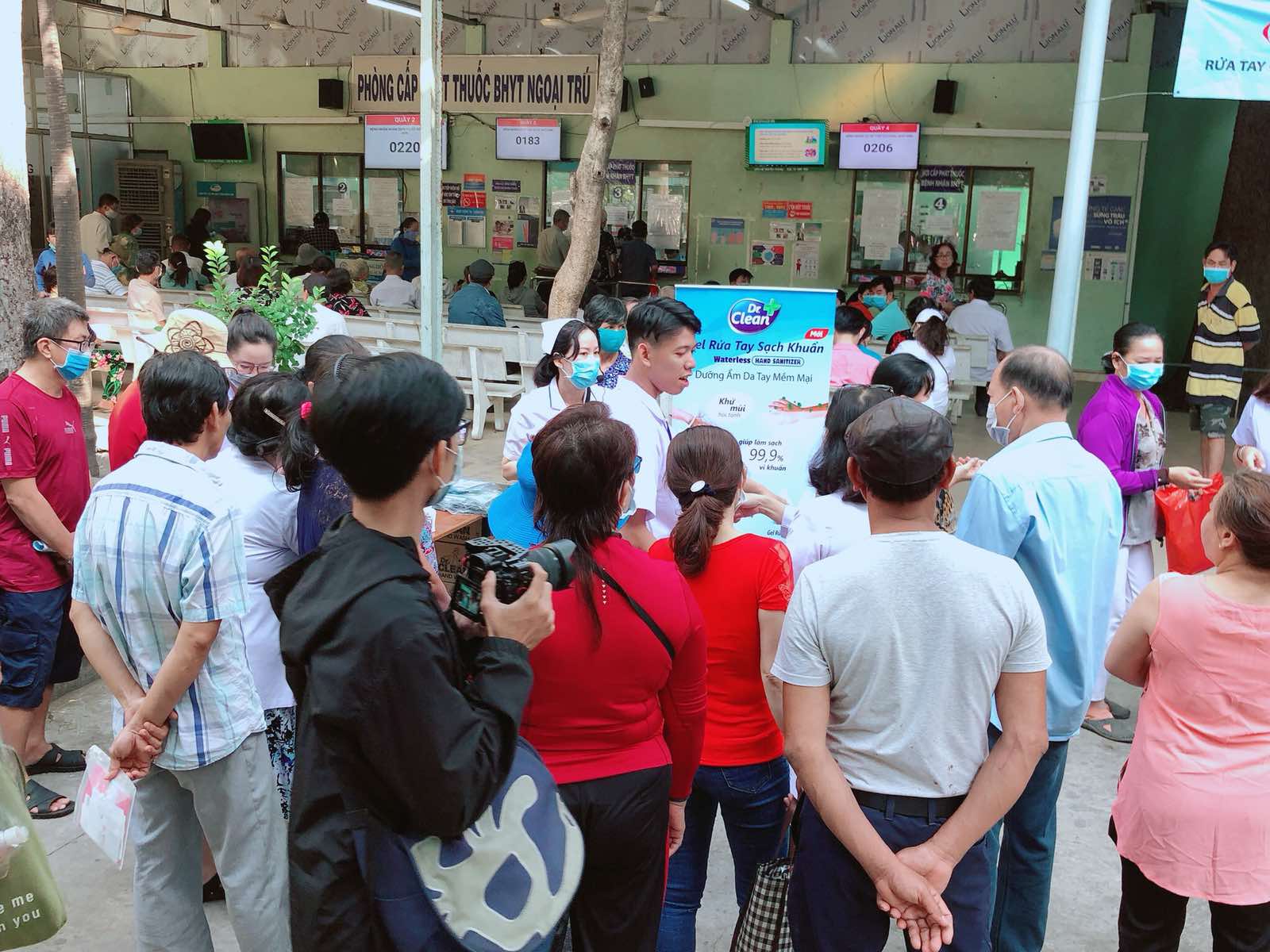 Dr.Clean experts are guiding and providing information to the people at the hospital
At the event, as a reputable brand of handwash for more than 10 years in the Vietnamese market, Dr. Clean's experts highlighted the importance of proper handwashing in cleaning bacterial, minimize the spreading rate, respiratory diseases, diarrhea and some other diseases related to the digestive system; detailed instructions of 6 steps of hand washing in accordance with MOH standards along with leaflets printed in detailed illustrations, then awarded nearly 500 gifts of Dr..Clean handwash and Dr..Clean non-water hand washing gel for people at the hospital. Representative of Dr.Clean brand said: "We understand the importance of health. Through our humanitarian activities today, we wish to joining our hands to assist enhancing people's health as well as supporting the medical team at the hospital. Hopefully, after this event, people will have high awareness in washing their hands properly anytime and anywhere at home as well as public places to prevent disease most effectively. "
Event's video "Join Dr.Clean to protect the public health – Give love, do not give bacteria"
Owning with the consistent policy from the parent company FIT Group, alongside production and business, FIT Cosmetics always focuses on taking part in programs, projects of community activities, implementing corporate social responsibility, directing to long-term and sustainable development.
In the coming period, besides the orientation and investment from the parent company FIT, FIT Cosmetics will endeavor to research and evolving to deliver to market products with quality plus safety for users' health. At the same time, keep on joining hands in charitable activities to fulfill the mission of connecting and taking care of Vietnamese people as the strategy that the Board of Directors has aimed.