Last several years, the brand Dr. Clean became a "hot trend" name in the Vietnamese consumer market. Few people knew, Dr. Clean is owned by FIT Cosmetics, a member company of FIT Group. The strong growth of Dr. Clean in the first 3 months of 2020 has helped FIT Cosmetics record breakthrough business results, opening up impressive growth potential for the whole 2020.
FIT Cosmetics' sales have started to surge since February 2020, when the Covid 19 epidemic began to burst out in Vietnam. There's no prior history the demand of buying hand sanitizer has been increased so robustly as the present. Among the names, Dr. Clean has become one of the most sought products in stores, supermarkets and online sales channels. Specifically, more than 281,000 Dr. Clean products was sold in February 2020, contributing significantly to the total revenue of more than 16.6 billion of FIT Cosmetics, nearly 4 times in comparison to the same period in 2019 (4.3 billion). Profit before tax recorded at 1.7 billion, a fair result for a business that has just undergone a comprehensive restructuring.
By the end of March 2020, FIT Cosmetics' revenue was 16.5 billion, profit before tax was 1.8 billion. Causing influence to the overall results of the first quarter of 2020, the revenue was 37.9 billion and the profit before tax was 389 million. Undoubtedly, these numbers reflect the sharp growth of FIT Cosmetics and usher in a prospective 2020.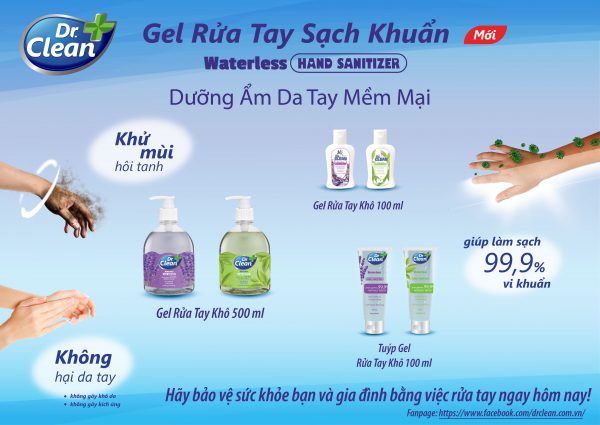 It can be said that, while large and small businesses in Vietnam are substantially affected by Covid 19, FIT Cosmetics is one of the exceptional businesses to track down advancement opportunities during the pandemic. There will be ideas that FIT Cosmetics is fortunate because the epidemic season is the golden time to boost sales of personal care products in general and antibacterial hand sanitizer in particular. However, without banking on existent production capacity, FIT Cosmetics would not be able to supply the market demand. In particular, in the context of the widespreading Covid 19 epidemic, FIT Cosmetics has promptly re-launched the Dr. Dry Hand Gel series Dr.Clean which is very useful to help people prevent the epidemic effectively. Owning the initiative in manufacturing, combined with acumen and timely capturing market trends, FIT Cosmetics is presenting that the company is set up to compete with well-known brands in Vietnam consumer goods industry.
In addition to Dr. Clean, FIT Cosmetics also possesses other famous brands such as: laundry detergent, fabric softener – Tero, Ocleen – home cleaning products, Nuwhite shower gel, … which are currently available at more than 100,000 retail outlets across Vietnam as well as many reputable e-commerce channels. The robust growth of Dr. Clean is the perfect stepping stone for FIT Cosmetics to proceed promoting its key products. Besides modern production lines at the factory in Long An, along with the flexibility in business planning, FIT Cosmetics is being fully proactive in sophisticated market movements.
Beyond manufaturing & trading, FIT Cosmetics constantly focuses on carrying out social activities, sharing responsibility with the community towards long-term and sustainable development. Most recently, FIT Cosmetics organized the program "Joining hands with Dr. Clean to protect public health – Give love, do not give bacteria" at Nguyen Tri Phuong Hospital – HCM city, drawn a lot of attention from the community.
Officially joining FIT Group since 2017, after 8 years of operation under the brandname of Sao Nam, FIT Cosmetics today has grown and become one of the leading cosmetics manufacturing enterprises in Vietnam. Along with the desire to bring about contentment, joyfulness and acceptance to consumers, FIT Cosmetics unceasingly researches and develops green, convenient and quality product lines based on "Korean technology, for the Vietnamese ". 2020 is expected to be a vivid year for FIT Cosmetics, when the company reaps the first achievement after 3 years of comprehensive restructuring. After all, it is also a worthy result for the efforts, solidarity and striving of the entire company leadership and staff.